Need help with tricky eye drops?
Between fiddly bottles and shaky hands, self administering eye drops can be difficult. But help is at hand.
With an Opticare eye drop dispenser, targeting your eye and squeezing the bottle becomes much easier. Compatible with a wide range of eye drop bottles, Opticare puts you in control.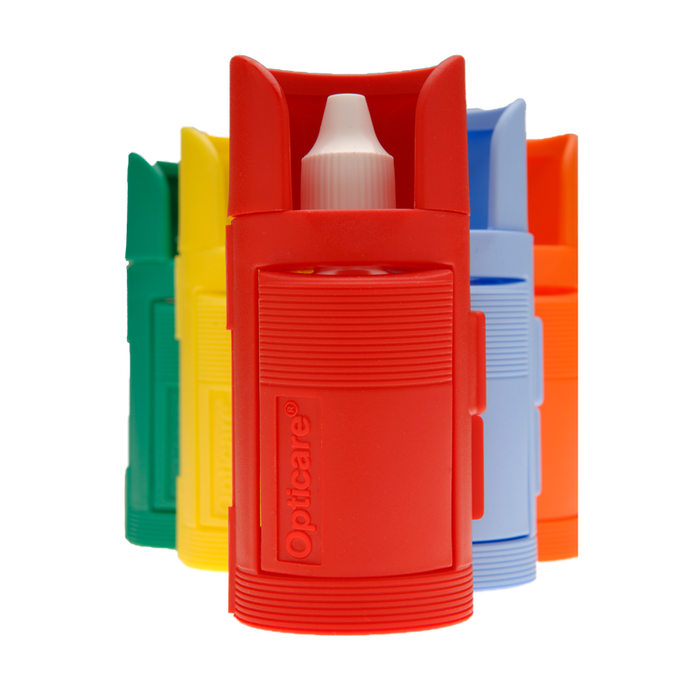 Making eye drops easy
Opticare eye drop aids are specially designed to take the hassle out of your daily routine.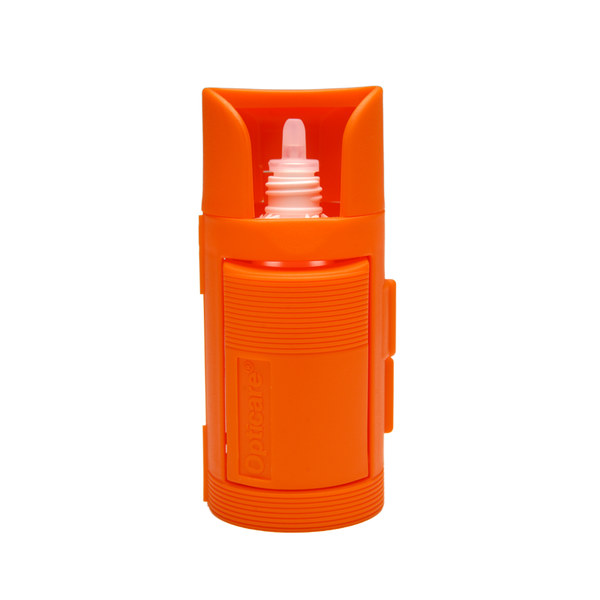 Targets Your Eye

Resting comfortably around the eye, Opticare accurately targets drops and avoids the bottle tip touching the eye.

Helps You Squeeze

Opticare helps you to squeeze the botttle. Requiring only gentle pressure to release a drop, it's a big help for arthritic hands.

Fits Many Bottles

Opticare can still help when your drops change. Compatible with the majority of traditionally shaped bottles (2.5-10ml). It's a single person, repeat use dispenser.

Boosts Your Confidence

The cylindrical, grip-sized body improves confidence by making drops managable for shaky hands. Bright colours are easy to find around the home or in our bag.
Your helping hand
Opticare's design ensures that you accurately target your eye, whilst helping you to squeeze the bottle.
Watch the video below to see how it works.
Bright colours to help distinguish drops
Use Opticare's colours to easily identify your different eye drops. Load your morning drops into a red dispenser and your evening drops into a yellow dispenser?

Available in red, yellow, blue, green & orange.
Frequently Asked Questions
Can I use Opticare with different eye drops?

Designed to work with most 2.5-10ml traditionally shaped bottles, Opticare can be used again and again. It keeps on helping you even when your brand of eye drops changes.

There are some bespoke bottle designs which will not fit with Opticare. Please check our compatability chart.

Bottle compatibility chart

How do I use Opticare?

Opticare comes with full instructions and we've included a demonstration video here on our website too. Once your bottle is loaded into Opticare, it can stay there until your drops are finished.

Need help with eye drop technique?

Self administering eye drops can be difficult. But with a little practice and a good technique it's much easier. Try these seven steps to eye drop success.
Customer Reviews
"Now very simple for me to do them on my own. You've made the impossible, possible."
"5 out of 6 new patients with dexterity issues were taught to self-administer their eye drops within a few days."
"I find Opticare a great boon. It is wonderful to be able to administer drops myself, rather than having to rely on someone else."
"I do find it efficient releasing just one drop without wastage."
"My district nurse introduced me to your eye drop dispenser. I would like you to know what an invaluable help it is to me."
"I have been using an Opticare eye drop dispenser for some time and when my medication changed, I was pleased that the new bottle fitted, and I can continue using Opticare."